From the Deputy Headmaster
Saturday, 5 August was the 148th anniversary of the laying of the School's Foundation Stone. We celebrated the School's birthday on Thursday, 3 August with a full school assembly in the Glen McCracken Sports Centre. During the assembly we enjoyed the story of the School's history from the perspective of Junior School students. We acknowledged 16 current Year 12 boys who commenced their schooling journey in the Prep class at Toowoomba Grammar School, soon to be graduating after 13 years in our community. It was wonderful to see the whole school come together and celebrate the efforts and achievements of our boys.
Year 12 Mock Examinations
The majority of Year 12 students have now completed their final internal assessment (IA3) prior to the external examinations being held in Term 4. Year 12 teachers and boys are now concluding Unit 4 work and commencing preparations for their mock examinations being held in the final two weeks of this term and ultimately the external examinations commencing in Week 4, Term 4. We are very pleased with the academic progress of our Year 12 boys and wish them well for their preparations. I do ask that Year 12 parents help us to emphasise to the boys the importance of attending every lesson between now and their final examinations.
Old Boys' Reunion Weekend and Grammar Downlands Rugby
Saturday, 19 August presents the great opportunity for our community to gather for the Old Boys' Reunion weekend and rugby fixtures against Downlands hosted at Toowoomba Grammar School. This is always a much-enjoyed weekend for current students and Old Boys, parents, staff and visitors. We welcome all Old Boys back to their school and hope the weekend is filled with great memories and camaraderie.
For our boys, their positive conduct as rugby players, spectators and hosts for the weekend is paramount. Where social opportunities present for boys, we insist on their extended representation of the School and their sensible decision making and safe choices.
Guest Presenters at TGS
Fireside Chat: Professor Brad Carter - Astrophysics
The Toowoomba Grammar School community was pleased to welcome world renowned astrophysicist, Professor Brad Carter from UniSQ to enlighten us about the awe-inspiring world of astrophysics. The audience, which included students, parents, staff and members of the community, were captivated by Professor Carter's explanations to some of the grand questions of astrophysics, including "how did we get here?" and "what may be out there?".
It was also fascinating to learn from Professor Carter about the Toowoomba region's ongoing contribution to the world of astrophysics. We learnt a NASA relay station at Cooby Dam played a crucial role in communications for the Apollo missions, including the 1969 moon landing. In addition, Professor Carter also outlined in detail the important work being done at the Mt Kent Observatory at Greenmount, and his own research focus in the shared evolution of stars and their planetary systems.
We thank Professor Carter for his time and generosity, which no doubt inspired some of our students to continue pursuing their own passion in this field.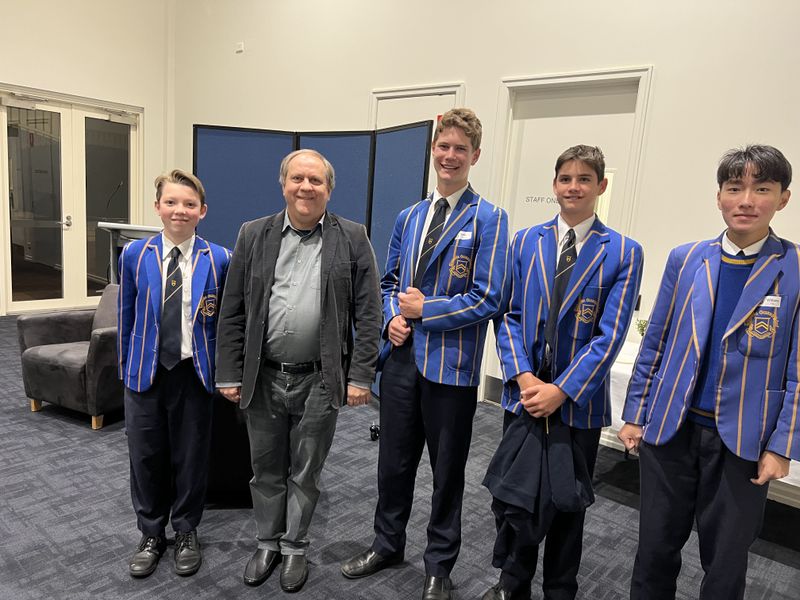 Raising Good Men: Dr. Kaylene Henderson – Anxiety and Resilience
The latest instalment of our Raising Good Men series welcomed highly regarded child and adolescent Psychiatrist, Dr Kaylene Henderson to present on the important topic of tackling anxiety and building resilience. An eager audience learnt that anxiety is the human body's natural response to stress and danger. To help our boys deal with anxiety, Dr Henderson stressed the importance of normalising conversations about the topic and suggested modelling this to our children. Moreover, whilst it is important to help support and watch over our children, a critical component in enabling them to grow emotionally and build resilience is to "help them just enough."
We thank Dr Henderson for making the trip to Toowoomba and her profound insights.
Junior School / Aquatic Car Park Loop Traffic
Traffic during school pick-up times can be slow in this area. Senior School parents are encouraged to use the other pick up / drop off areas available across the School where possible, for example Herries St and Margaret St Loop areas.
For parents using the Aquatic Centre area for collection, please do not queue as that blocks the right lane for through traffic near the Sports Centres. This creates a bottle neck or even stopping all traffic movement because all vehicles using this entrance must move through this area to exit.
The School is considering future works in this area to improve traffic flow.
Thank you for your understanding.
Regards,
John Anderson
Deputy Headmaster