From the Deputy Headmaster
2024 Term Dates
The School term dates for 2024 have been confirmed. Every six or seven years there is a correction in school term dates to move the start of Term 1 later in January to avoid the ongoing date creep forward. There is also a corresponding correction at the end of Term 4 where the concluding date is moved later.
The adjustment in term dates for TGS means a usual start date for Term 1, but a 9-week Term 4 to finish later in November 2024. The start date for 2025 will then move back a week which maintains the eight-week Christmas school holiday break in 2024/2025.
The TGS term dates for 2024 can be found on the School's website or via this link.
Traffic Safety
We endeavour to provide a safe environment for our students, parents, staff and visitors. Over recent years, we have worked to improve vehicle flow and pedestrian safety with the installation of speed bumps, drop off areas in the Herries St loop and speed indicator signs in an effort to keep vehicle speed at a safe limit. We ask parents to take note of the requested speed limits and traffic signage to ensure the safety of our pedestrians.
The Margaret St loop contains a bus zone lane for student drop-off and collection. Parents can pick-up and drop-off students in this lane if there are no buses arriving. It is imperative that parents always give right away to school buses and to please leave this bus lane free when buses are arriving to school. Please follow the directions of staff in this regard. Once again, this expectation is to ensure the safety of our children and assist the smooth traffic flow in this area.
Service Opportunities – Primary School Assistance
TGS Senior School boys from various year levels have provided terrific volunteer service to primary schools and their students. One such program, called the Homework Assistance Program (HAP), has our Year 11 boys travel to Darling Heights State Primary School to offer homework assistance to refugee children each Wednesday afternoon after school. The boys are doing a tremendous job and are providing valuable help to the young students.
Closer to home, we have Year 11 boys also volunteering to assist during lunch time with the Junior School boys while they play on Mills Oval. This provides a great opportunity for the older boys to get to know the Junior School boys and vice versa. Senior School boys of all ages have also volunteered to assist the Junior School sports and clubs program that runs after school. The older boys provide great assistance to the staff and their expertise in some programs provides great inspiration to the Junior School students. It is wonderful to see so many boys volunteering their own time and developing their character through helping others.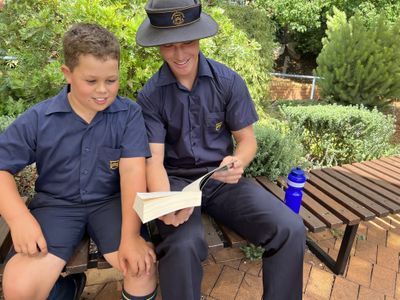 White Ribbon – Family and Domestic Violence Awareness and Prevention
Since 2017, Years 11 and 12 boys are invited to join the School's White Ribbon committee. White Ribbon is the world's largest movement engaging men and boys to end men's violence against women and girls, promote gender equality and create new opportunities for men to build positive, healthy and respectful relationships.
Over 50 boys are involved in the committee this year with their purpose to understand what Domestic and Family Violence is, how to raise awareness in our community and consider prevention strategies. The month of May is Domestic and Family Violence awareness month and the School's White Ribbon committee focus their efforts this term and into Term 3. Boys have been involved in the Domestic Violence Action Committee (DVAC) community Candle Lighting Remembrance Ceremony and Community March and attended a breakfast at TGS with guest speakers, Adair Donaldson and Adam Walsh, presenting on this topic. Boys will share presentations on School Assemblies, raise awareness through selling White Ribbons at home games, arrange the White Ribbon Gift at the House Track and Field Championships to name a few initiatives. We hope our young men take their awareness of Domestic and Family Violence well into their future and to "Stand Up and Speak Out" against any situations they may become aware of.
Our boys were enthralled with the story of Adam Walsh at our recent "Game Changer" breakfast hosted by Adair Donaldson at TGS. Adam shared his difficult family circumstances as a child and how adult mentors were vital in his support and rehabilitation following a period of exposure to domestic and family violence. Following a career in the army, Adam is now the Wellbeing, Education and Integrity Manager at the Brisbane Broncos and provides great mentorship to the players. Adam shared his advice about leadership and supporting others and this was valuable advice for our boys to hear.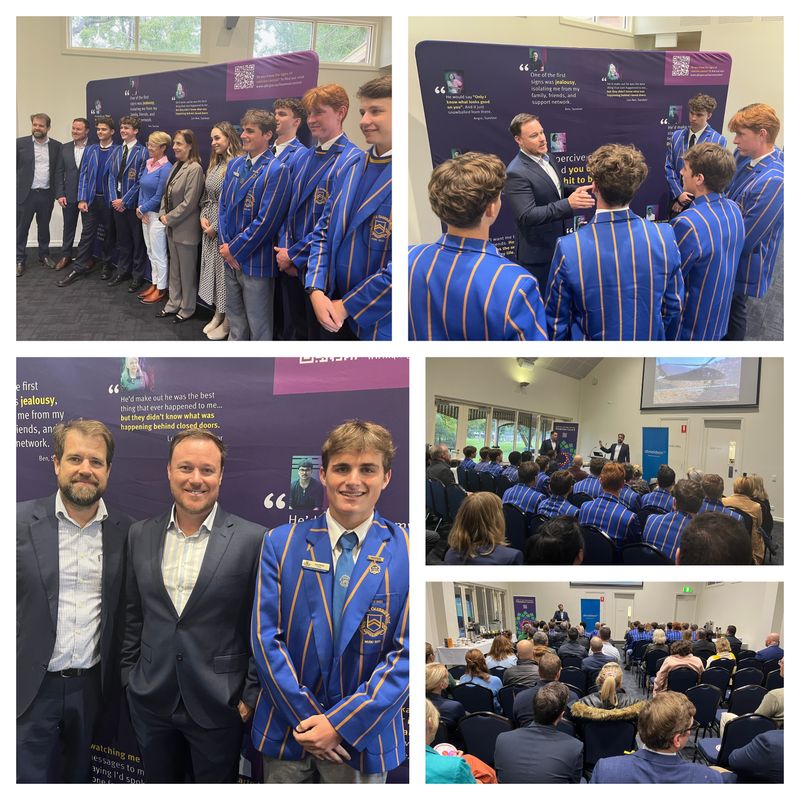 Term 2 Assessment
As we approach the end of the second term, the boys enter a period of assessment in most subjects. I hope the boys are well-prepared for each examination and are pleased with their outcomes.
John Anderson
Deputy Headmaster